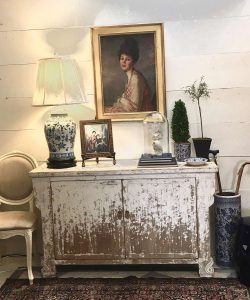 The beauty of shopping at Chesterdales Home and Garden vendor mall is the vast array of eclectic home furnishings.  We are the most unique furniture and accessory store in Naples, offering antiques to modern and gently used to brand new merchandise.  With over 50 vendors on the hunt for original home furnishings to fill their spaces, you will find the best selection of curated merchandise anywhere in Southwest Florida.
Recently we spent a rainy Sunday afternoon with one of our in-house designers styling one console in 3 different styles.  Following are 10 styling tips from Suzanne Hernandez at Cypress Home & Vintage Chic.  Suzanne recommends that you incorporate at least 5 of these tips when staging your console.
Choose a Focal Point – this can be a mirror or piece of art.  This will anchor the space and also set the tone and color theme.
Mix Textures – Use multiple items with varying size, shapes and texture
Color Theme – The color palette can be determined by a piece of art, fabric or a theme, such as neutral tones.  This will tie your look together
Vary Heights – the varying heights will add visual interest
Use Odd Numbers when selecting your accessories
Light Source – Make sure you have a light source in the area, whether a lamp on the console or a chandelier overhead, appealing lighting is key
Personalize It – Use what you Love to personalize an area.  This can be a treasured antique, an item purchased on a favorite trip, artwork from a local designer, or what speaks to you
Layer items for added interest
Choose either Symmetry or Asymmetry – whichever appeals to your sense of style
Give it "Life" – Use plants, crystals, branches, coral, flowers, fruit or any natural items you like
And most importantly, have fun creating a focal point in your home!  Now have a look at the 3 design looks which Suzanne created using a heavily distressed console as her inspiration.
Related